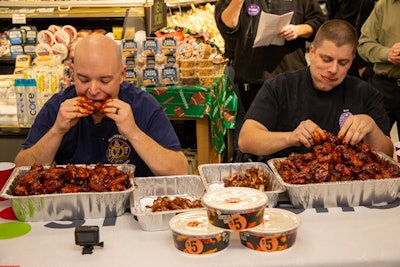 With the goal of receiving $1,000 to donate to the charity of the agency's choice, a firefighter with the Manchester (CT) Fire Department and an officer with the Manchester Police Department stared down two giant platters of barbeque chicken wings at a local grocery store on Wednesday morning.
According to the Hartford Courant, Manchester Fire Lieutenant Matt LeRoux and Manchester Police Officer Ricardo Tavares each had before them a 22-pound pile of bone-in wings and five minutes to do as much damage as they could.
In the end, it was Lieutenant LeRoux to push back from the table with the win, having consumed 2.7 pounds of wings compared to Officer Tavares' 2 pounds downed.
The fire department said that they will be donating to the Rebuilding Together Manchester foundation.