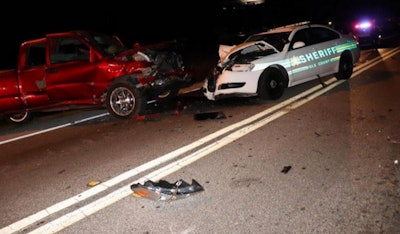 A Lakeland, FL, woman was arrested on charges of driving under the influence after causing a multi-vehicle crash, which included a violent head-on collision with a Polk County Sheriff's Office patrol car Tuesday night, according to authorities.
Two deputies were sent to the hospital following the head-on crash involving a pickup truck and their agency vehicle, the Ledger reports.
The crash occurred around 9:45 p.m. Tuesday, when India Williams drove into the southbound lane of Combee Road, hitting a PCSO patrol car head-on, according to the release.
Polk County SO said in a release, "At approximately 9:45 pm on Tuesday, January 28, two Polk County patrol cars were driving southbound on Combee Road (south of Dons Place and north of South Eastside Drive) after completing a traffic crash investigation. Deputy Sheriff Trainee Eric Roberts (37) was driving a 2016 Chevrolet Impala; Deputy Sheriff (training instructor) Brittney Black (25) was in the passenger seat. Ahead of them was another patrol car traveling in the same direction. Neither patrol car was being operated in emergency mode, nor enroute to a call for service.

"According to interviews and evidence gathered at the scene, the deputy driving the first patrol car observed a red Chevrolet pick-up truck, traveling north on Combee Road, crossing the center line into the southbound lane. He took evasive action, swerving into a parking lot to avoid a collision. The pick-up then collided with the patrol car operated by Deputy Roberts in a head-on type collision."
Everyone in the crash was wearing seat belts, the release noted.
Williams, 46, was checked for injuries at the scene and then arrested for DUI and taken to the Polk County Jail. Two breath samples taken from her revealed a 0.145 and a 0.151 blood alcohol content, according to reports.
The two patrol deputies were transported to Lakeland Regional Health Medical Center. Roberts was treated and released, PCSO said, while Black was admitted for non-life-threatening injuries and is in stable condition.