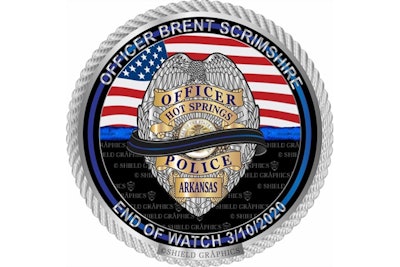 An officer with the Hot Springs (AR) Police Department was shot and killed during an armed confrontation at a traffic stop on Tuesday evening.
The agency posted a statement on Facebook reporting that Officer Brent Scrimshire had initiated a traffic stop when gunfire erupted. Both the subject and the officer suffered gunshot wounds.
Both individuals were transported to a nearby hospital where Officer Scrimshire succumbed to his injuries. The condition of the alleged assailant has not been released.
The post continued, "We ask for you to keep his family and co-workers in your thoughts and prayers. We are devastated by our loss."
An investigation is being conducted by the Arkansas State Police.