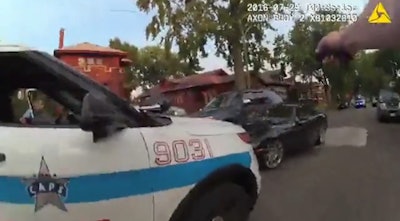 Two Chicago police officers were dismissed late Thursday for opening fire on a stolen car during a 2016 incident that ended when the vehicle's unarmed teen driver was shot and killed by another officer after a foot chase.
In an 8 to 0 decision, the Chicago Police Board found that Officers Michael Coughlin Jr. and his partner, Jose Torres, violated Chicago Police Department rules for shooting at the car driven by 18-year-old Paul O'Neal in July 2016.
The officers will have the right to appeal their firings to the Cook County Circuit Court, the Chicago Tribune reports.
Department rules generally prohibit officers from shooting at a moving car if the vehicle is the only weapon being used against them.
O'Neal was not struck by Coughlin's and Torres's gunfire. But after O'Neal ditched the Jaguar and took off running through backyards in the South Shore neighborhood, he was shot and killed by another officer, who told investigators he believed O'Neal had a gun and shot at him.