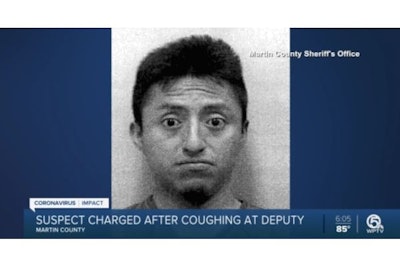 A man accused of claiming he had COVID-19 and coughing in the direction of a Martin County, FL, deputy has been arrested.
Christian Perez, 23, was taken into custody after being stopped on suspicion of reckless driving, reports WPTV.
He reportedly told the deputy he was suffering from coronavirus, so the deputy provided him with a protective mask to cover his mouth.
According to the Martin County Sheriff's Office, at one point Perez removed the mask and began intentionally coughing toward the officer, who ultimately got the mask back over Perez's mouth to reduce the risk of contamination.
Perez was arrested on charges of driving under the influence, driving without a license, assault on a law enforcement officer, and threatening a public servant.