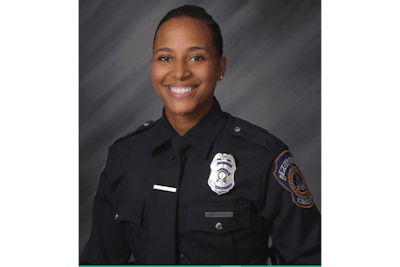 An Indianapolis police officer was fatally shot Thursday afternoon at an apartment complex on the city's east side.
Officer Breann Leath, 24, and two other officers responding to a domestic disturbance call shortly before 3 p.m. approached an apartment, and shots were fired "through the structure," IMPD Chief Randal Taylor said.
Leath and a female shooting victim were taken to hospitals, police said later Thursday during a news conference at Eskanazi Hospital. Police said Leath died from her injuries, reports the Indianapolis Star.
According to the Indianapolis Police Department, Leath had served with the agency for two years, reports WTHR. The department tweeted that she was a veteran, a mother, and the "daughter of a public servant family."
It is with a heavy heart that @IMPD_Chief announces the untimely death of @IMPDEast Officer Breann Leath.

Officer Leath was a loving mother. A veteran. Daughter of a public servant family. And the example of what an @IMPDnews officer should be.

She will be sorely missed. pic.twitter.com/X6t3orHhji

— IMPD (@IMPDnews) April 9, 2020