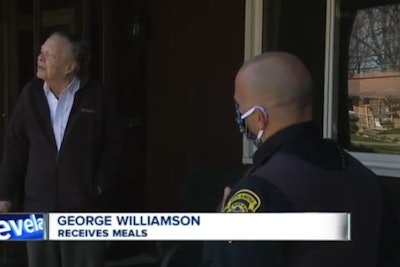 Citizens at risk of contracting COVID-19, the disease caused by the novel coronavirus, have been urged to stay inside their homes during the pandemic. Many are elderly and have pre-existing conditions that might increase their risk of contracting the disease and some have difficulty getting adequate food during the quarantine. That's where the kindness of one officer comes into play.
According to ABC News in Cleveland, Officer Jim Carbone of the North Olmsted (OH) Police Department partnered with "Meals on Wheels" to deliver lunch and dinner five days a week to at-risk populations during the health crisis.
He makes the rounds to different assisted-living facilities delivering food and much-needed companionship.
One of the people he visits is a 99-year-old retired sheriff's deputy.