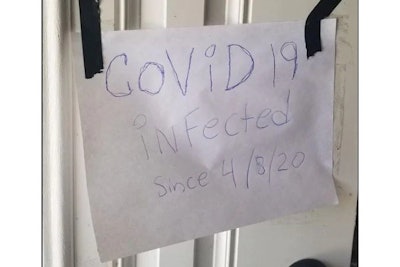 Florida deputies said a wanted man posted a sign on his front door that read "COViD 19 iNFected since 4/8/20" in a last-ditch attempt to avoid arrest. It didn't work.
The posting was scrawled in ballpoint pen on a sheet of office paper and attached to the door with ragged strips of plumbing tape, reports the Orlando Sentinel.
"PUBLIC NOTICE: Placing a fake 'Covid-19' sign on your door will not stop us from kicking it in when you have felony warrants for your arrest," the sheriff's office posted on its Facebook page.
Joshua Price, 28, was arrested April 16 on felony flee and elude law enforcement and violation of probation warrants.
Deputies and detectives used protective gear when arresting him, the Putnam County Sheriff's Office said, but added there's no indication Price was ever exposed to the coronavirus.