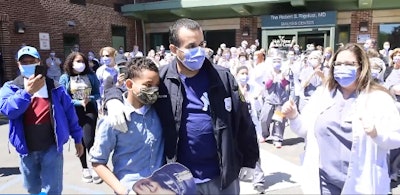 Twenty-two days after he was hospitalized with a high fever and low oxygen levels, Octavio Robles, a Union City, NJ, police officer, walked out of Holy Name Medical Center on his own Tuesday to the cheers of the hospital staff and his fellow police officers.
"When Octavio went into the hospital, honestly we weren't hopeful initially," said Union City Police Chief Nikki Luster. "I can't tell you how relieved and grateful everybody is today. From the bottom or our hearts, thank you."
He believes that he became infected with the coronavirus while trying to save his mother's life. He was there when she stopped breathing, after complaining of feeling sick, and performed CPR on her even though he suspected she had COVID-19, NorthJersey.com reports.
Asked to explain why he risked his life to try to save hers, Robles said, "Wouldn't you face the devil for your mother?"