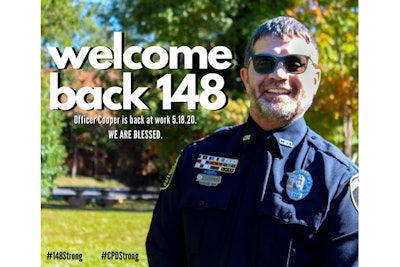 An officer with the Covington (GA) Police Department who was shot in the head in a 2018 shooting has returned to work.
According to WXIA-TV, Officer Matt Cooper and a sergeant were called to a local Walmart to respond to a shoplifting call.
Two people were taken into custody in the parking lot and a third ran from the scene.
Cooper and the sergeant began to search for the third subject and shots rang out, resulting in a severe head injury to Officer Cooper.
Cooper was transported to a nearby hospital, then transferred to another hospital facility, where he began a long road of recovery.
After nearly two years of hard work, Officer Matt Cooper is again 10-8.
The agency posted on its Facebook page, "Officer Cooper is back at work! Welcome back Matt! #148strong."