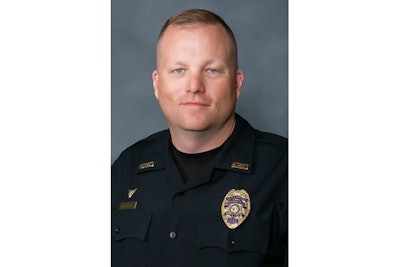 An officer with the Springfield (MO) Police Department shot a man who is believed to have intentionally hit an officer with a car in the parking lot outside police headquarters Tuesday morning.
The agency posted on Facebook that officers were notified of a subject at the front entrance of the Headquarters building and causing a disturbance and urinating on the front door.
Officers contacted the suspect—identified by police as 28-year-old Jon Tyler Franklin Routh—and reportedly asked him to leave.
Routh then reportedly got into a white SUV, drove away, and then circled back through the parking lot, heading toward the front entrance of the building where Officer Mark Priebe—a 21-year veteran of the Springfield Police Department—was standing.
The agency said that it "appears the driver intentionally struck the officer who became trapped under the vehicle. The vehicle continued forward with the officer still trapped and struck a concrete bollard."
A second officer yelled at the driver to stop and get out of the vehicle and when he refused and continued to drive forward, the officer fired shots striking the suspect and stopping the vehicle.
Both the officer and the suspect were transported to a nearby hospital for treatment. Priebe is reportedly in serious condition.
The condition of both individuals have not yet been released.