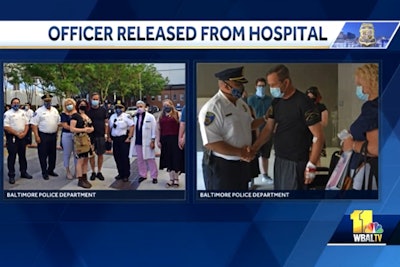 An officer with the Baltimore Police Department who was shot earlier this month while he tried to disperse a large crowd that had gathered to protest the in-custody death of George Floyd in Minneapolis has been released from the hospital.
According to NBC News, Officer Brian Burke was greeted outside the hospital by his family, dozens of fellow officers, and a group of civilian police supporters as he got into a vehicle and made his way home to recover from his wounds.
Police Commissioner Michael Harrison was also present to wish Officer Burke a speedy and full recovery.
Police have arrested a suspect—identified as 30-year-old Christopher Earl—who now faces charges in connection with the shooting.
An investigation into the incident remains ongoing.