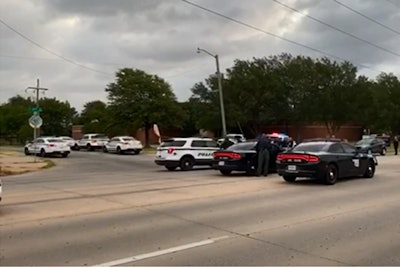 An hours-long manhunt ended in Tulsa after two officers were shot by a man during a traffic stop early Monday morning. The officers are in critical condition and reportedly "fighting for their lives.'
According to Tulsa World, police arrested the suspected gunman—identified as David Anthony Ware—after an extensive search.
Police investigators allege David Anthony Ware, 32, shot a sergeant and a patrol officer in their heads. The officers were attempting to pull Ware from a 2007 Chevy Cobalt. Ware was allegedly arguing that the officers were "violating his rights" about the time they informed him the vehicle would be towed due to the expired temporary tags.
Both officers were shot multiple times and were transported by other first responders to a nearby hospital.
"After (the sergeant) is down from being shot, Ware stands over him and fires three more times," an investigator stated in the probable cause affidavit.
Tulsa Police Chief Wendell Franklin has identified the wounded officers as Sgt. Craig Johnson, a supervisor in the Mingo Valley Division, and Officer Aurash Zarkeshan. Franklin said Zarkeshan had been on his own only about six weeks after recently finishing training at Tulsa Police Academy in May.