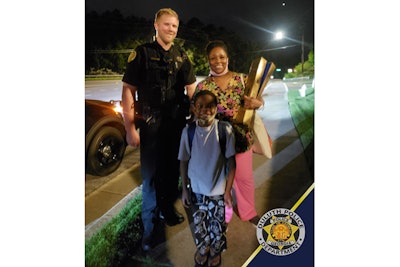 An officer with the Duluth (GA) Police Department who had come upon a woman and child walking down a rural road early Tuesday morning made a call to a car service so that they could safely get to a relative's house after their car broke down.
The agency said on Facebook that patrolman Addington spotted a woman and child walking down Pleasant Hill Road near Sidney Lanier Blvd. and stopped the two to make sure they were okay due to what time of the night it was.
"After speaking with the female, Officer Addington discovered her vehicle had broken down," Duluth police said on Facebook, sharing a picture. "The female needed to get to her sister's house in Dacula but had no way to get there and her sister had been unable to come and pick her up."
The social media post continued, "Officer Addington decided he would call and pay for an Uber for her and her son to get to her sister's house safely. Officer Addington had no hesitation on what course of action to take, his concern for the well-being of the mother and child were the only thing that he cared about at that moment."
The post concluded, "Thank you, Officer Addington for your kindness and compassion. Officers like you are the reason why our department is a great asset to our community. Well Done!"