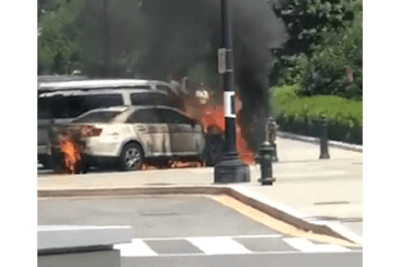 A man is in custody after authorities say he doused a police vehicle outside the U.S. Supreme Court in flammable liquid and set it ablaze.
The white sedan was parked outside the high court on Maryland Avenue NE in Washington, D.C., on Wednesday. The Supreme Court's public information officer Kathy Arberg told the Washington Examiner that the suspect sustained some injuries from the fire, but no one else was hurt during the incident.
Arberg said. "The car was totally burned, and an adjacent Court vehicle was also damaged."
Photos and videos sourced from the scene showed the vehicle engulfed in flames and later appearing to be completely gutted by the inferno.
Um there's a car on fire at SCOTUS. pic.twitter.com/bY0lY9KZf4

— Marissa D. Barrera (@mdb2) July 15, 2020