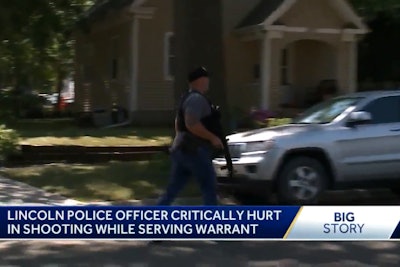 An officer with the Lincoln (NE) Police Department was shot Wednesday while attempting to execute an arrest warrant on a teen wanted in connection with a homicide that occurred in March. Two suspects are in custody.
According to ABC News, police were seeking to arrest a suspect—identified as 17-year-old Felipe Vazquez— for second-degree assault in connection with the murder of Edward Varejcka.
Two suspects fled the dwelling the officers were serving the warrant on and at least one person opened fire, striking one of the officers at the scene.
The officer—whose name has not been released—was transported to a nearby hospital for treatment and is reportedly in stable condition.
Soon thereafter, police arrested Vazquez as well as another subject, identified as Orion Ross.
An investigation into the shooting of the officer—whose name has not yet been released—remains ongoing.