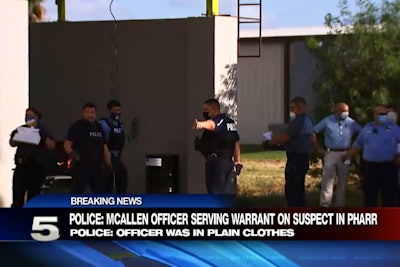 An officer with the McAllen (TX) Police Department was struck, pinned, and then dragged by a suspect in a vehicle as another officer opened fire on the assailant, police say.
According to KRGV-TV, the driver of the suspect vehicle—identified by police as 44-year-old Hector Garza—was wanted on a warrant for burglary of a building when officers encountered him.
As one of the officers reached inside the vehicle door to arrest the suspect, the suspect drove in reverse and then forward at high speed, police say.
Garza then reportedly pinned one of the officers against a building with his car. Garza then reportedly dragged that officer with his car for a distance before the officer was able to free himself.
During the incident Garza was reportedly shot in his right upper shoulder. He was transported to a nearby hospital with non-life threatening injuries and now faces a charge of aggravated assault on a peace officer.
The injured officer is expected to make a full recovery.