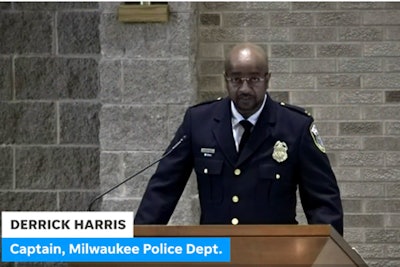 A captain with the Milwaukee Police Department spoke at the funeral service of an officer who died by suicide, saying that law enforcement officers "must be able to genuinely care for each other, which sometimes means having uncomfortable conversations with people we say we love."
According to the Milwaukee Journal-Sentinel, Captain Derrick Harris spoke at the memorial service for Officer Thomas Kline on Monday—who died by suicide in early September—saying, "I will grieve his loss forever."
Harris and Kline had developed a special bond and friendship as they partnered to police the Democratic National Convention, and Kline had needled his superior officer for his poor eating habits, at times pointing out the total calories Harris would consume during a shift.
Kline had developed a reputation as a bit of a prankster and was
"We must remove any stigma and look for help from other professionals," Harris said at the memorial service.