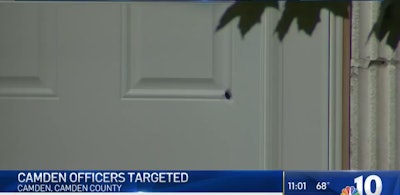 A manhunt is underway for at least two gunmen who fired 10 shots at the Camden, NJ, home of married Camden County police officers who just had a baby.
Seven of the shots hit the home and six penetrated—two through the front door—Tuesday shortly before midnight, Camden Police Chief Joseph Wysocki told the media at a press event Thursday evening.
The officers and their 10-day-old baby were not injured. They were on the second floor at the time, NJ.com reports.
Wysocki said the motive for the shooting is unknown, but it's "very common knowledge" that the officers live at the home. "I do know that this is a targeted attack against this residence where the officers reside," Wysocki said.
Thursday morning, investigators located a 1998 dark-colored Honda Odyssey that they believe was involved in the incident. No arrests have been made, NBCPhiladelphia reports.
"I want to send a clear message to the scumbag thugs behind this senseless act. We're coming to get you," Camden County Freeholder Louis Capelli said. "You will be prosecuted to the fullest extent of the law."