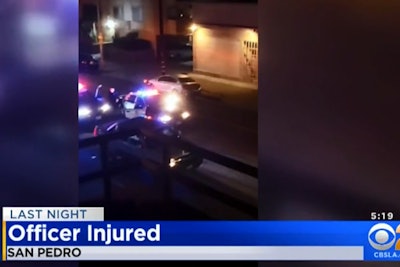 An officer with the Los Angeles Police Department was attacked inside a division station facility by a suspect who allegedly grabbed the officer's sidearm and began "pistol whipping" him with it.
According to CBS News, the incident occurred on Saturday night in San Pedro. Police say a man walked into the police station and asked to speak with an officer. An officer greeted the man and reportedly came under immediate attack. Shots were reportedly fired but no one was struck by gunfire. However, the altercation left the officer injured with wounds consistent with "pistol whipping."
The suspect—identified by police as 29-year- Jose Cerpa Guzman—is now being held on $2,230,000 bail and faces a charge of attempted murder of a police officer.
LAPD Chief Michel Moore told reporters, "I am grateful that the officer who was in this incident tonight was working the desk, who came out to assist this individual, to understand what his needs were, that he survived and that during this engagement, he did not lose his life. He did not suffer the injury that apparently this suspect meant to inflict."