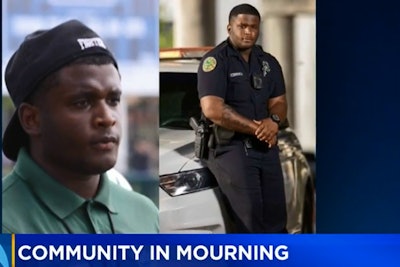 Community members from the city of Miami and surrounding areas came together on Wednesday to honor the life of Officer Aubrey Johnson Jr. of the Miami Police Department, who passed away unexpectedly earlier this month.
According to CBS News, community members attended a public viewing at a local funeral home on Wednesday. On Thursday, an invitation-only celebration of life will be held at a local Baptist Church in Miami Gardens.
Officers from across the country will be allowed to participate in paying their respects via the church's YouTube channel— Zion Media Stream.
The Miami-Dade Medical Examiner found Officer Johnson died as a result of pulmonary thromboembolism, due to deep vein thrombosis, due to decreased mobility, due to right leg injury.
According to the Miami Police Department, Officer Johnson tore his right Achilles' tendon on Sept. 17, while chasing a narcotics suspect. He was treated at Jackson Memorial Hospital, prescribed pain medication and discharged.
The 28-year-old officer was placed on temporary disability leave so that he could recover at home prior to being able to return to light duty and, eventually, full duty.
On October 1, Johnson called a family member and when they arrived, he was unconscious, according to Tommy Reyes, President of the Fraternal Order of Police for the department.
He was rushed to Jackson North Medical Center where efforts to resuscitate him were unsuccessful.