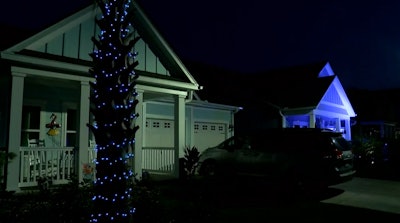 A Myrtle Beach, SC, neighborhood lit up blue Tuesday night to show law enforcement officers that residents stand behind them.
The show of support comes after Officer Jacob Hancher of the Myrtle Beach Police Department was murdered Oct. 3 at a domestic call. The 23-year-old Hancher had served less than a year as a local police officer.
He was laid to rest on Tuesday in his hometown of Waldorf, MD, WMBF reports.
Prior to being a sworn officer, Hancher worked for the Myrtle Beach PD as a community services officer.
His work was mostly grunt work that officers avoided. Delivering beach wheelchairs, rescuing animals, traffic at school, the State reports.
He worked in the division for four years until he had the chance to go to the police academy.
A funeral was held for Officer Hancher in the Myrtle Beach Convention Center on Oct. 9.