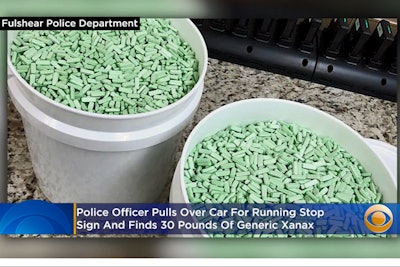 During a traffic stop just west of Houston on Wednesday, officers discovered a haul of 30 pounds of illegal alprazolam (the generic form of Xanax) with an estimated street value of up to $645,000.
According to CBS News, an officer with the Fulshear City Police Department stopped the vehicle for a minor traffic violation. Upon investigation, the officer called for back-up so that the car could be safely searched.
Police say that the two occupants of the vehicle—whose names have not been released—were taken into custody at the scene after the drugs were discovered in the car.