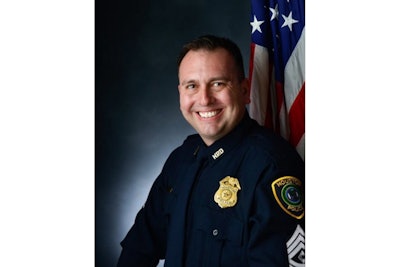 The Houston Police Department has announced that a person wanted for the murder of an off-duty officer has been arrested. The suspect has not been identified.
Sgt. Sean Rios, 47, was reportedly on his way to his shift at George Bush Intercontinental Airport when for reasons not presently released to the public he ended up on a feeder road of the North Freeway in a gunfight with at least one suspect. The incident happened shortly after 1:30 p.m. local time.
The suspect was described last night by Police Chief Art Acevedo as a heavily tattooed male Hispanic in his mid to late 20s. The suspect was reportedly driving a blue four-door Mercedes. Acevedo said Houston police have recovered the vehicle, but he would not say where or how.
Another person of interest driving a black pickup is also wanted by police. Acevedo said there was evidence that the shooting suspect and the driver of the pickup "were working together."
Acevedo addressed the suspect during the press conference, saying his investigators have leads and "We're going to catch you." He urged the suspect to turn himself in. It's not known if he did turn himself in.
Sgt. Rios, a 25-year veteran of the Houston PD, was in civilian clothes and driving his personal vehicle at the time of the incident. He was outside of his vehicle when he exchanged fire with the suspect and was mortally wounded, according to the chief. Rios made his way to the lobby of a nearby motel where he collapsed and died.
Acevedo stressed that Rios died in the line of duty. He said that while the officer was off duty at the time, he was taking "police action" when he was killed.
Sgt. Sean Rios is the fourth Houston officer to die in the line of duty since last December.
Sgt. Rios leaves behind four children -- ages 9, 12, 14 and 17 -- his parents and a brother. He also had two cousins who are HPD detectives, KHOU reports.