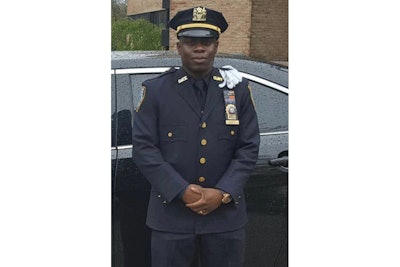 Two NYPD officers were shot in Queens Tuesday by a City University of New York peace officer — who had his guns taken away in a previous domestic dispute but had them returned to him weeks ago, police said. The suspect was killed.
One of the officers was left bleeding heavily from a wound to his right upper thigh, while the other was shot in both hands — both suffering "very serious injuries," NYPD Commissioner Dermot Shea said at a press conference. The officer shot in the thigh reportedly has a broken femur. Both are expected to survive.
The NYPD officers were wounded during an exchange when 41-year-old suspect Rondell Goppy walked through the door of his home and opened fire amid a domestic dispute around 12:45 p.m., Shea said. Goppy was shot and killed.
Minutes earlier, the officers — identified by law-enforcement sources as Christopher Wells and Joseph Murphy — had escorted Goppy's 41-year-old wife back to the troubled couple's apartment.
The wife was getting her things so she could stay somewhere else, police said.