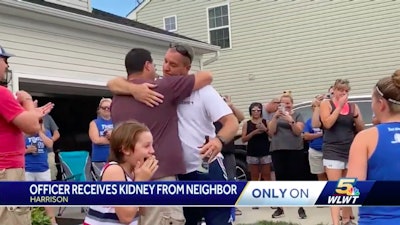 A Green Township, OH, police officer who was in desperate need of a kidney is in recovery after a successful kidney transplant.
Troy Biggs, a husband and longtime officer, underwent surgery last week and is home recovering.
His neighbor, Cary Aronson, donated one of his kidneys. Without Biggs' knowledge, he started the process at the beginning of the summer and went through the months-long testing process.
At the time, Biggs' kidney function was declining fast. He needed a new kidney or would have to start dialysis treatments.
Both have been recovering at home and are regaining strength daily.