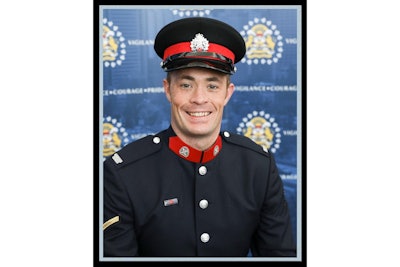 A Calgary, Canada, police officer was killed late Thursday when he was struck by a vehicle that was reportedly fleeing a traffic stop.
The Calgary police report on Facebook that Sgt. Andrew Harnett conducted a traffic stop at 10:50 p.m. During the traffic stop, the vehicle fled, striking the officer in the process. Other officers were nearby and "rendered aid as quickly as possible."
EMS arrived on the scene to treat Harnett, but he was pronounced dead at a local hospital.
First-degree murder warrants have been issued for two suspects, Al-Azan Shah Muhammad, 17, and Amir Abdulrahman, 19, both of Calgary. Muhammad, the alleged driver, and Abdulrahman, his passenger were in a sport utility vehicle when they were stopped by Sgt. Harnett.
The vehicle being sought is a copper-coloured, 2006 Infiniti FX, with a small spare tire on the front passenger side. The vehicle also has noticeable hail damage. A photo of a similar vehicle is attached.
Harnett, 37, joined the Calgary Police Service 12 years ago, after serving as a military police officer. He was promoted to Sergeant in 2019 and was most recently assigned to District 5.