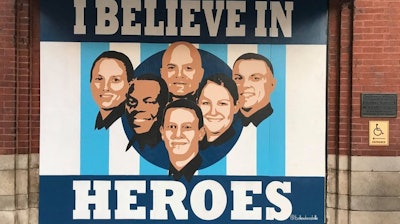 A new mural in Nashville honors the six Metro Police officers who ran to danger and saved lives before the Christmas Day bombing.
The "I Believe in Heroes" mural can be found on Second Avenue and Broadway, near Hard Rock Cafe. It's in the place of a window that was blown out when an RV exploded. When the window is fixed, Hard Rock will bring it inside and make it a permanent fixture of the restaurant.
The mural was put together by "I Believe in Nashville," who are raising money for bombing victims. While only three people were physically injured, many lost property and their residences were made uninhabitable, Fox17 reports.
Central Precinct officers were initially responding to a shots fired call on 2nd Avenue North and arrived to a mysterious RV playing an eerie warning that a bomb was going to detonate followed by Petula Clark's "Downtown."
Officers immediately began going door to door, evacuating apartments. Police also diverted one man who was walking his dog on 2nd Ave. just before the explosion occurred.