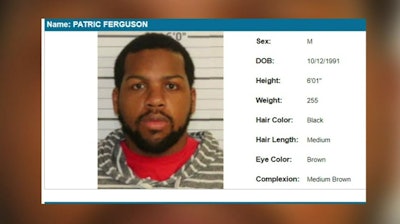 A now-fired Memphis Police officer is in jail after police say he confessed to kidnapping and murdering a man while on duty.
Patric Ferguson, 29, is charged with first-degree murder, first-degree murder in perpetration of aggravated kidnapping, especially aggravated kidnapping, abuse of a corpse, and fabrication and tampering with evidence, Fox13 reports.
In a statement MPD posted to its Facebook page at 1:23 a.m. Sunday, the department said Ferguson had been arrested and immediately relieved of duty. An affidavit about Ferguson's arrest is dated January 10.
According to MPD's release, police got a call Wednesday at 8:30 p.m. from a woman reporting her boyfriend Robert Howard, 30, was missing
Police said their investigation led them to determine Ferguson, who they say was on duty and armed with his own handgun, encountered Howard outside a home on Mark Twain Street and forced him into the back of his squad car. Police say Ferguson then drove to the area of Frayser Blvd. and Denver Street, where they say he shot and killed Howard. An affidavit says Ferguson shot Howard in the back of the car before moving the body to another location temporarily.
Sources told Fox13 that the murder may have been committed over jealousy.