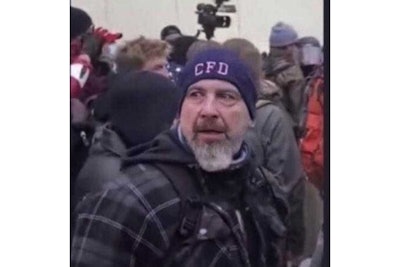 A recently retired firefighter from Chester, PA, was arrested Thursday morning for throwing a fire extinguisher that hit three police officers during the riot at the U.S. Capitol last week, federal authorities said.
Robert Sanford, 55, faces federal felony charges including assaulting a police officer, the Philadelphia Inquirer reports.
The projectile he is accused of throwing was not the one that killed Capitol Police Officer Brian Sicknick, who was also struck in the head by a fire extinguisher during the riot and later died from his injuries, authorities said.
Investigators said Sanford was identified from video taken at the scene showing him throwing the fire extinguisher around 2:30 p.m. as the mob breached the Capitol building's west side.
The footage shows the extinguisher hitting one helmeted officer in the head, ricocheting off it and striking another. It bounces again and then hits a third, as the man that threw it — wearing a hat with the initials "CFD" — flees in the opposite direction.