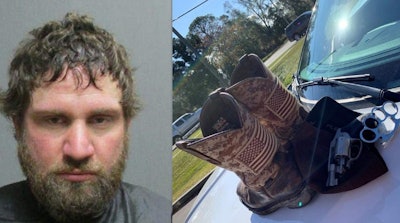 A former officer who was caught hauling a stolen trailer was found to have badges and ammo from the Mississippi agency where he once worked, according to the Flagler County Sheriff's Office.
Deputies said a license plate reader got a hit on the trailer, which had been reported stolen out of Daytona Beach, around 10:30 a.m. Monday and the Real Time Crime Center was immediately activated to locate the Chevrolet Tahoe that was towing it.
Flagler County deputies and Bunnell police officers conducted a felony traffic stop and took Ettienne Joseph Mixon Jr., 35, into custody, ClickOrlando reports.
Mixon was reportedly terminated from his former agency, the Mississippi State Police.
Deputies said they located a loaded gun in Mixon's pocket and inside the Tahoe they found a backpack containing a large amount of counterfeit cash, brass knuckles and two clown masks. They also found badges, a helmet, a Mississippi State Police Department ID card and a Pearl River Sheriff's Office key card, records show.