An Iowa State Patrol sergeant was shot and killed during a tactical entry at a standoff Friday night. The suspect is in custody after being critically wounded.
The incident that led to the death of Sgt. Jim Smith began with a traffic stop in Grundy Center involving a man identified by authorities as Michael Thomas Lang, KCCI reports. Lang reportedly ordered the officers to kill him at the scene.
He then overpowered and disarmed one of the officers, police say.
Backup officers arrived on scene and Lang reportedly fled in his vehicle and went to his home.
Law enforcement officers from several agencies went to the home and set up a perimeter.
At about 8:55 p.m. four Iowa State Patrol troopers and a K9 unit made entry into the residence through the garage. The team identified themselves before entering the home.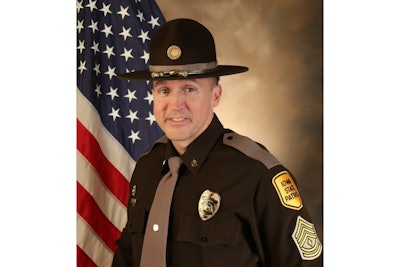 Law enforcement said while the team was clearing the upstairs of the residence, Smith was hit with gunfire coming from inside the residence. After Sgt. Smith was shot, the entry team saw Lang emerge from the doorway holding a black, pump-action shotgun.
Sgt. Smith was pronounced dead at a local hospital.
An Iowa State Patrol tactical team later used an armored vehicle to make entry at around midnight. They reportedly came under fire and returned fire, hitting Lang multiple times, Mitch Mortvedt, assistant director of the Iowa Division of Criminal Investigation, said at a press conference.
Lang has been charged with first-degree murder and is being held on a $1 million cash bond.
KCRG reports that Lang ran for sheriff of Grundy County in 2020 and won the Democratic primary with 517 votes.
Republican Kirk Dolleslager won the election and took office as sheriff on Jan. 1, 2021. Grundy County Sheriff's deputies were involved in the standoff.
The Grundy Register reported that Lang has a long list of previous criminal convictions and was twice charged with a felony-once for third offense OWI in 2009 and once for Third Degree Burglary in 1999-but on both occasions, he pled down to aggravated misdemeanor adjudications.