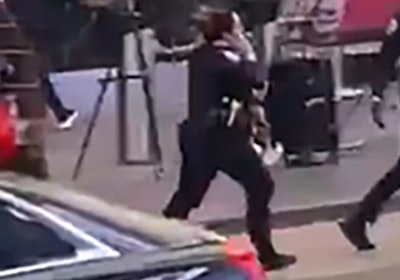 During an active shooter attack in Times Square late Saturday afternoon, an NYPD officer picked up a wounded 4-year-old girl and ran her to medical care.
The fast-acting officer — a mom to a 6-month-old boy herself — recalled trying to reassure Skye Martinez's mother in the moments after the child was hit by gunfire.
"I kept telling her to breathe, that I know what she's going through because I have a baby myself," said Officer Alyssa Vogel. "It was very difficult for her, very traumatic. She saw her daughter just get shot."
Vogel, a former school teacher who joined the NYPD four-and-a-half years ago, told the New York Post the tiny shooting victim was "the strongest little girl I've ever seen."
The girl, the youngest of three victims injured in the attack, was struck in the leg. Vogel applied a tourniquet then rushed her to medical care.
"I just picked her up so I could run to the ambulance," Vogel said.
Skye is expected to make a full recovery.
The incident apparently started with a argument. One of the participants opened fire into the crowd.
No arrests had been made as of Monday, but sources told the Post and the New York Daily News the suspect is 31-year-old Farrakhan Muhammad.