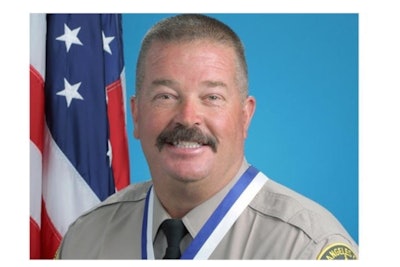 A Lancaster, CA, man was sentenced Monday to life in prison without the possibility of parole for the execution-style slaying of a Los Angeles County sheriff's sergeant five years ago.
Trenton Trevon Lovell, 31, had two prior convictions and was on parole at the time of the slaying of Sgt. Steve Owen, 53, who was shot five times on Oct. 5, 2016, after responding to a burglary call in Lancaster.
Owen was answering a report of a break-in when he confronted Lovell at gunpoint. Lovell shot the veteran sergeant once in the head before standing over him and firing additional fatal shots, Fox LA reports.
A second deputy who arrived on the scene shot and wounded Lovell, who attempted to steal the officer's car before fleeing on foot. Lovell then broke into a nearby home and held two teenagers hostage for an hour. The teens were not physically injured, and Lovell was captured after leaving the home.
Prior to the imposition of the sentence, Owen's daughter, Shannon, told the court that she spoke to her father the day he died, "and hoped my words were heard by his soul." As for the defendant, she said, "We are now all serving life sentences because of your choice."