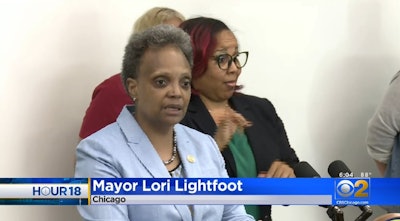 After months of stalling, Mayor Lori Lightfoot on Monday announced her plan to create a civilian police oversight board, one which would have significantly less authority than a competing proposal championed by a coalition of progressive, black, and Latino aldermen.
Under her plan, Lightfoot would retain the power to hire and fire the superintendent of the Chicago Police Department, the chief administrator of the Civilian Office of Police Accountability, and members of the Chicago Police Board. She also would keep final say over the departments' policies and budgets, CBS reports.
The panel would have the authority to cast a vote of "no-confidence on the fitness of the superintendent, chief administrator and police board president."
While the commission would be able to weigh in on setting policy for the Chicago Police Department, COPA, and the Police Board, the seven-member panel would not have the final say on policy. Rather, if there were any policy disputes between the commission and CPD, COPA, or the Police Board, Lightfoot would "review the parties' positions and either direct the Superintendent, Chief Administrator, or Police Board President to take appropriate action, or explain in writing why no action is warranted."
Likewise, the new commission would also be given a chance to weigh in on the various agencies' annual budgets, but would not have the ultimate authority.