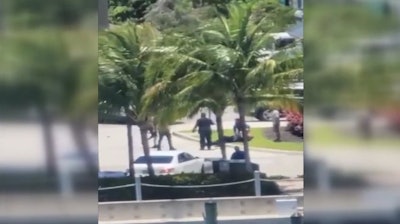 A North Miami Beach police officer was run over and seriously injured Thursday when he tried to stop a hit-and-run driver.
As that officer was on the ground, the woman behind the wheel of the red car tried to drive off — again, authorities told Local10.
"Shots were fired," Chief Richard Rand said. "K-9 was deployed, and the female was stopped."
On Friday, authorities said the officer remained in the Intensive Care Unit, but was in "good spirits."
"The female suspect has also been admitted in good condition," authorities said.