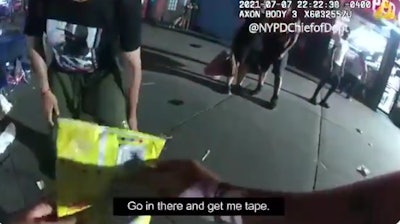 A New York police officer used an empty potato chip bag and tape to slow the bleeding of a stabbing victim July 7, police said Sunday.
Body camera video released by the New York Police Department showed Officer Ronald Kennedy placing the bag over the man's wound described by emergency personnel as a "sucking chest wound."
The officer used the makeshift chest seal after he responded to a report of a stabbing in Harlem, the police public information office told NBC News.
Paramedics arrived, applied a chest seal and transported the victim.
Above & beyond!

Watch as @NYPD28Pct cops keep a stabbing victim alive using an empty potato chips bag & tape.

NY's #Finest at work...pic.twitter.com/OGRJoa0q5i

— Commissioner Shea (@NYPDShea) July 17, 2021
The victim was taken to the hospital in critical condition, police said.
Police said in a statement in the edited bodycam video that the attending physician attributed the man's survival to Kennedy's actions.