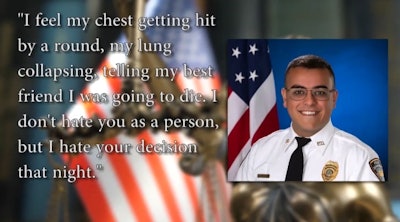 A man who shot Grafton, ND, police officer Lucas Campoverde in the chest last August during an arrest was sentenced to 35 years prison Wednesday.
Campoverde went to arrest 38-year-old Ruben Cruz at his home behind the police station on drug charges. Cruz ran and started shooting.
Campoverde was shot in the chest. His partner, Officer Casey Jones, then shot Cruz, the Grand Forks Herald reports.
Before the judge decided on his sentence, Cruz apologized to Campoverde, who has permanent nerve damage to his hand, making it nearly impossible for him to do his favorite thing in life -- play the guitar.
"I want to apologize to Officer Campoverde for the suffering, the pain to him and his family (...) if I wasn't under the influence of methamphetamine, this would have never happened," Cruz said in court.
Campoverde broke down when it was his turn to address the court, causing Cruz to cry and say he was sorry once again.
"I feel my chest getting hit by a round, my lung collapsing, telling my best friend I was going to die. I don't hate you as a person, but I hate your decision that night," Campoverde said.