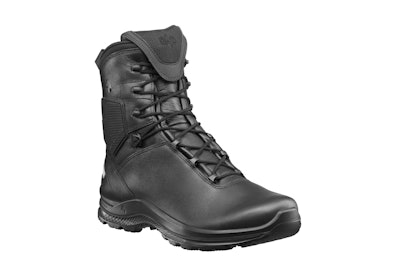 HAIX is searching for 1,000 officers to participate in a boot wear test. Participants will receive a pair of boots from the company free of charge.
Wear-testers will receive 1 of 3 models of HAIX Black Eagle boots. HAIX says it "wants each chosen participant to put our shoes through their paces. And then, after wearing them on the job for 4 weeks, give us their feedback."
Each wear-tester must be over 18, active in the law enforcement profession, and be able to provide a wide array of testing scenarios in real-life situations.
"If you are a law enforcement professional, you know how important footwear is when you are spending long hours on the job," the company says. "You want a high-quality pair of boots that not only offers ultimate comfort, but also long-lasting durability."
HAIX will provide all boots free of charge. Officers are to wear them while on duty during the month of September. Chosen participants must also tell HAIX how well the boots performed by the deadline of Oct. 15. Short, online wear test feedback forms will be provided by HAIX to make this task easier. All wear testers will get to keep the boots.
To apply to be chosen as a HAIX 1,000 pair wear test participant, go to this link (www.haixusa.com/1000) to sign up between August 15 and August 31.
The 1,000 wear testers will be selected from all entries after close of contest and will be notified via email.