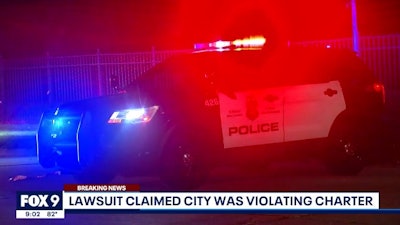 The Minnesota Supreme Court on Tuesday denied a request from the city of Minneapolis for an emergency review of a judge's order requiring at least 730 police officers be on the force by next summer in order to comply with the city charter's requirement.
Without providing an explanation, Chief Justice Lorie Gildea denied the city of Minneapolis' request for an "accelerated review," which would have bypassed the Minnesota Court of Appeals, Fox 9 Minneapolis reported. The city sought the review of the order issued by Hennepin County Judge Jamie Anderson last month in order to provide more clarification before the November election.
Anderson ordered city council and Mayor Jacob Frey to "immediately take any and all necessary action to ensure they fund a police force," requiring at least 730 sworn officers on duty by June 30, 2022. Under current force levels and attrition trends the city is expected to fall almost 100 officers short of that number.
Separately, voters will decide a ballot measure to replace the police department altogether.
Nearly $1 million in national and local campaign funding has flooded into Minneapolis to support the group Yes 4 Minneapolis, which brought forward the ballot measure proposing the police department be scrapped and a new public safety agency be created in its place.