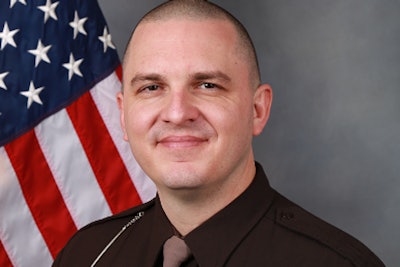 A Kalamazoo County (MI) Sheriff's deputy died Sunday after being shot during a vehicle pursuit. The suspect was killed.
Deputy Ryan J. Proxmire was part of a group of deputies who responded to the Shell Gas Station in Galesburg on Saturday night. The deputies were attempting to take a suspect, 35-year-old Kyle Goidosik into custody after an earlier pursuit by Portage police, Fox 17 reports.
When the deputies approached, Goidosik reportedly pulled out a gun and pointed it at them, according to the sheriff's office.
Goidosik was able to drive off, leading them on a chase south, officials say.
Just a few minutes into the pursuit, the suspect reportedly opened fire at the deputies, mortally wounding Deputy Proxmire.
While the remaining deputies continued the chase, a Good Samaritan stopped and called 911. Deputy Proxmire was rushed by ambulance to the hospital where he died.
The pursuit ended when the suspect reportedly lost control, drove into a field, and got stuck.
The suspect then reportedly got out of his car and started shooting at deputies once again. Officers returned fire, hitting the suspect. He died at the scene.