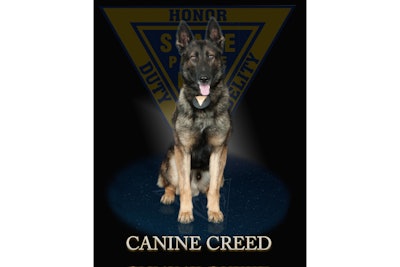 A knife-wielding man stabbed a police dog and attacked a state trooper Monday after a pursuit that ended on the New Jersey Turnpike in South Jersey, authorities said.
Troopers were initially called to a shirtless man, armed with a knife, standing outside his vehicle on Interstate 295, according to the New Jersey State Police.
The man got in his vehicle and drove away when troopers arrived, leading to a chase, according to police.
After the suspect's vehicle was disabled, "Troopers ordered the driver to exit the vehicle, but he refused, so a State Police K-9 was utilized to assist troopers entering the vehicle to apprehend the suspect," the agency said in a statement. "As they attempted to gain control of the suspect, he stabbed the K-9 with a knife."
"As the troopers arrested the suspect, the man struck a trooper with a flashlight," police said.
State Police said the injured K-9 was taken to an animal hospital and listed in stable condition, NJ.com reports.
The trooper suffered non life-threatening injuries and was taken to a local hospital, according to the statement.