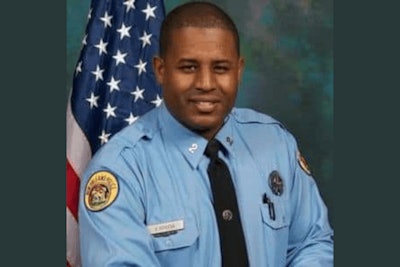 Two suspects have been arrested in the murder of an NOPD detective shot and killed during a robbery at a Houston restaurant last weekend.
Frederick Jackson, 19, and Anthony Jenkins, 21, were arrested this week at separate locations. Police Chief Troy Finner said both were out on bond for other crimes and one of them had removed his ankle monitor.
They're charged with capital murder in the death of Detective Everett Briscoe, who was killed outside Grotto Ristorante on Saturday, Aug. 21. Briscoe and friends had just arrived in Houston and were on the patio of the Galleria-area restaurant when armed robbers demanded their belongings. Even after they complied, police say the suspects opened fire on them.
A second victim, Dyrin Riculfy, was shot in the head and friends say he remains in a coma at a Houston hospital.
Jenkins was arrested Wednesday at an apartment complex in Southwest Houston. Police say they also seized a vehicle matching the description of the one spotted leaving the crime scene.
Jackson was arrested Thursday by the HPD SWAT team.
Both were out on bond when Briscoe was killed.
District Attorney Kim Ogg said Jenkins was out on a $40,000 bond for aggravated assault with a deadly weapon. Jackson was also out on bond for an aggravated robbery in 2020. That crime involved someone who was followed from the Galleria area and then robbed of items that exceeded $40,000 in value, the district attorney said.