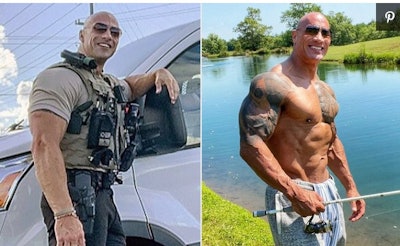 Movie star Dwayne "The Rock" Johnson has responded to viral Internet posting about his law enforcement lookalike Patrol Lieutenant Eric Fields of the Morgan County (AL) Sheriff's Office.
"Oh s---! Wow," Johnson tweeted Monday, reposting a side-by-side photo of himself and Patrol Lieutenant Eric Fields of the Morgan County Sheriff's Office, which has gone viral online with over 13,500 likes. Both buff, bald men flashed an easy smile in aviator sunglasses in the images, People.com reports.
"Guy on the left is way cooler," he continued, referencing Fields. "Stay safe brother and thank you for your service. One day we'll drink @Teremana and I need to hear all your "Rock stories" because I KNOW you got 'em," he teased, promising to raise a glass with his signature tequila.
The lookalike connection came to public attention with a Facebook post from the MCSO two weeks ago, when a local man asked another law enforcement officer to meet the deputy "that people say looks like 'The Rock.' "