Jaime Amoroso lost her husband who worked for the Port Authority Police at the World Trade Center on Sept. 11, 2001. A photograph showed him rescuing a woman that day, but her identity remained a mystery until now.
"I remember he left and he said I'm working at the World Trade Center," she told NBC, recalling that she told him to be careful. "He goes, 'what's going to happen?'"
"I knew when the second tower fell. I had a feeling that it wasn't going to be good. I just knew."
Christopher loved his job, Jaime said. In her husband's finals moments, she was able to see his heroism in action --- thanks to Daily News photographer Todd Maisel who snapped a photo of the officer appearing to escort a woman away from danger following the terror attack.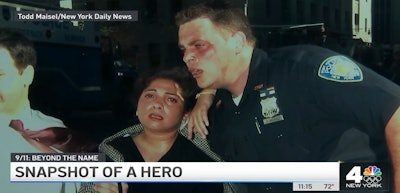 For two decades, Jaime waited to hear from the mystery woman. She often wondered if the woman made it out alive because no one had been able to identify her from the photo.
A social media search has now found her.
"That woman Officer Amoroso is seen helping in this photo is my mother, Suman Dhamija. My mother has severe asthma so after running down the stairs of the 2nd tower and with all the debris and smoke in the air, she could not breathe," the commenter said. "Officer Amoroso helped lift her up and walk away from the towers. This photo was taken before the 2nd tower collapsed."
Dhamija was working in the tower at the time. She now lives in India and she still remembers what Officer Amoroso said to her that day 20 years ago.
"He said, 'Ma'am, relax. We are here to help,'" she said. "I wish the best for his family, for his loved ones. If he wasn't there, there is no way I could have made it."
Jaime finally got to meet Dhamija after nearly two decades, even if it's only through a video call.
"You look exactly the same. If I walked past you on the street, I would have known who you were because I've looked at that picture so many times," Jaime told Dhamija. "I'm glad he did his job that day, so you could be with your family."