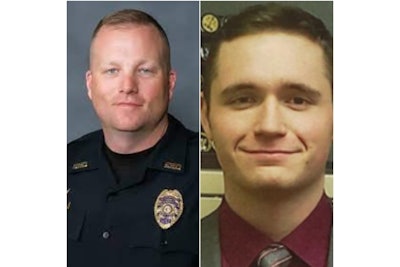 The Springfield (MO) Police Department is reporting that the kidney of a slain Independence, MO, police officer has been transplanted into one of its officers.
On Sept. 15, 2021, Independence Police Department Officer Blaize Madrid-Evans, was shot and killed in the line of duty. Officer Madrid-Evans was an organ donor and Springfield Officer Mark Priebe, who was severely injured in the line of duty in 2020, needed a new kidney. The two were a match.
Early in the morning on Sept. 17, the Priebe family was notified of the news, and the surgery to place the kidney was the following evening in St. Louis, the Springfield PD reports on Facebook.
Officer Madrid-Evans was 22 years old and had just begun his career with the Independence PD after graduating from the police academy in July.
Sunday afternoon Officer Priebe woke up from the operation with new hope. "I am forever grateful to Officer Madrid-Evans and his family for providing this direct donation," Officer Priebe said. "I truly believe God had his hand in this and it's been difficult to comprehend why I am allowed to continue to live, and this young, brand new officer had to pay the ultimate sacrifice. I hope that I can honor him and his family by the way I live my life."
On June 9, 2020, Officer Priebe, a husband, father of two and a 21-year veteran of the Springfield Police Department, was left paralyzed after being intentionally struck by a vehicle outside of police headquarters. Just over a year later, in June 2021, he learned that his kidneys were failing and the next month he began dialysis.
You can continue to follow Officer Priebe's journey and recovery on Facebook (https://www.facebook.com/PrayersforPriebe) and support for Officer Madrid-Evans can be directed toward the Independence Police Foundation, which is accepting donations on behalf of his family (https://www.ipdfoundation.org/support).