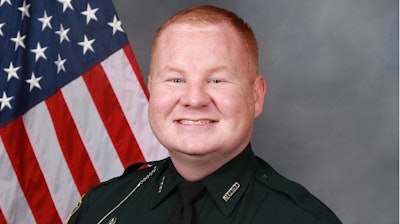 A Nassau County, FL, deputy was shot in the face early Friday at a traffic stop. He is in very critical condition.
Deputy Joshua Moyers initiated a traffic stop at around 2:30 a.m., FirstCoastNews reports.
While attempting to get information from the driver, Moyers learned that he did not have a driver's license and the tags on the vehicle were registered to a vehicle that was stolen in Jacksonville. The driver then gave the deputy a false name, Sheriff Bill Leeper said.
When Moyer tried to get the man to step out of the car, "The driver's arm came out of the window and shot the deputy one time right here," Leeper said pointing under his right eye. "As the deputy fell down, he (suspect) reached out and shot him in the back."
The suspect then sped off.
The suspect—identified by law enforcement as Patrick McDowell—is the subject of a manhunt.
The sheriff said: "He (Moyers) is just a great guy. ... We're not sure if he's going to make it or not. I talked with his mother and father and his fiancé. They were planning their wedding. I just ask that everybody keep them in their prayers."