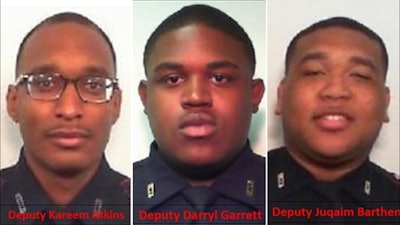 There are still no arrests in the ambush murder of a Harris County (TX) Precinct 4 Deputy Constable Kareem Atkins. Two other deputies were shot in the same incident. Darryl Garrett was critically wounded and Juqaim Barthen was shot in the foot and has been released from the hospital.
A total of $75,000 is being offered for any information that could lead to an arrest or suspect, officials announced during a press conference Wednesday, KHOU reports.
Crime Stopper of Houston announced they had increased the reward to $10,000. In addition Houston Rockets owner Tillman Fertitta, who was also in attendance, said he would be adding $40,000 to the reward and an additional $25,000 would be given through an anonymous donor.
The three deputy constables were working an extra job at a Houston nightclub when they were shot by a man who reportedly wielded a semi-automatic rifle.
Houston police are investigating. They have not publicly identified a suspect or suspects.