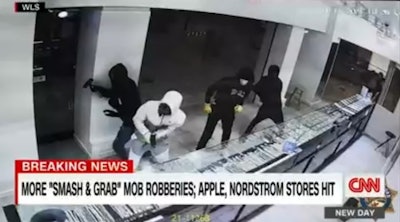 Law enforcement agencies in many American cities are moving to halt a wave of organized "smash-and-grab" mobs plundering retailers across the US.
In Northern California, district attorneys formed an alliance to prosecute organized theft rings. At the federal level, the FBI said it is in "close contact" with local law enforcement investigating such cases and prepared to take further action, CNN reports.
"We have been seeing this wave of people invading stores in large numbers," San Francisco Police Chief William Scott said. "There is no way in my mind that we can have a situation where 20, up to 80 people can invade a store or series of stores and there not be some communication and some organization."
Seven Bay Area district attorneys -- in San Joaquin, Contra Costa, Alameda, San Francisco, Marin, San Mateo, and Santa Clara counties -- announced last week an alliance that also included law enforcement and state agencies to combat organized retail theft.
Each office agreed to assign a prosecutor to target the thieves, including fencing rings and people who purchase the stolen goods, according to a joint statement.
Chicago Police Chief of Operations Brian McDermott said the department had increased patrols in the central business district and other locations and tracking "stolen cars and vehicles typically used in these type of crimes."