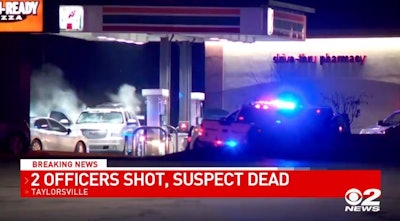 Two police officers and a suspect were injured during a shootout in the parking lot of a Taylorsville, UT, 7/11 store Wednesday night. One of the officers was critically wounded. The suspect was killed.
Roxanne Vainuku, public information officer for the West Valley City Police Department, said authorities were searching for a suspect wanted in connection to a robbery and a rape case.
Officers from several agencies located the man at a 7-Eleven. He was inside an SUV along with a 9-month-old infant, police told KJZZ.
"He would not exit the vehicle and he would not release the infant. After some negotiation, officers finally convinced him to let the infant out of the vehicle but he still remained inside and would not get out," she said.
Chemical irritant was used to encourage the man to exit the car. When he did, he opened fire on police, striking two officers, police say. Police returned fire and fatally wounded the suspect.
A West Valley officer was transported in critical condition. That officer was rushed into surgery and is now reportedly stable.
A second wounded officer—from the Unified Police—was transported to a hospital in serious condition. That officer has reportedly been treated and released.
The deceased suspect has been identified as 20-year-old Anei Gabriel Joker of West Valley City.